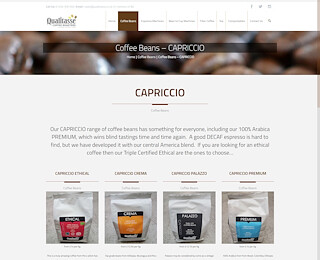 We spent many years contemplating how we would approach our own range of coffee beans and filter coffee. We played for months with different design concepts, what we felt worked and what didn't, and what we were comfortable with as "a brand". Our desire to create our own brand was driven from being at the mercy of large multi-national companies, who one day are promoting quality and exclusivity, and the next are flogging their "specialist" coffee products, through frozen food companies !
Coffee is something to be experienced, and as such, requires skill and passion to be able to deliver it at it's optimum. From the green bean, to the roasting, from the stoarge to the way it is ground, extracted and served, all these elements and more go together to make the user experience of latte, cappuccino and other espresso coffee based drinks. You cannot simply empty your random bag of coffee beans into your bean grinder and think everything else follows.
Capriccio started life with a new concept in the market place.  The coffee beans are the core product in the chain, but the training and support that surround those beans are of a far greater overall importance.  If Capriccio coffee is good at your taste test, then it is up to us to work together with you, to ensure your maintain that great taste when delivering coffee to your customers from your own staff and your own espresso equipment.  On-going training and support is key to everyone's success.
Capriccio Coffee
We welcome your comments!