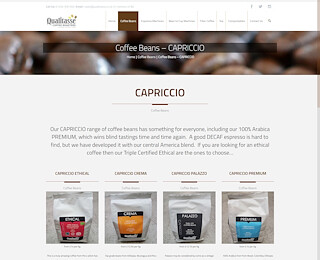 CAPRICCIO COFFEE only ever uses class A and sometimes Class B green beans for the perfect espresso. This ensures the highest
quality coffee beans
possible.
The computer controlled roasting process guarantees accuracy and consistency of every batch of coffee beans.  This is combined with the use of x-rays, weighing, magnets and human examination, to achieve the highest quality beans possible which are consistent in rast and taste !
If you sell high quality coffee beans you are offering a premium product and people will chose you over your competitors who are selling cheap coffee.  It is not an instant fix, but over time, as your customers appreciate the high quality and they go away and tell other people, you will benefit.  If you could just sell one extra cup of coffee each day this could add over £300 to your annual profit - so imagine if you could sell an extra 10 coffees a day - certainly not an unachievable target...
With CAPRICCIO COFFEE the service does not stop at the great tasting coffee beans.  For example, we have City & Guilds trained baristas on hand to train and guide you and your staff, to get the absolute maximum out of your coffee beans and espresso coffee machine. Barista training is one area where many coffee outlets seriously let themselves down, and with just a small investment of time and money, this can transform your coffee business !
An important aspect for many coffee shops, especially those just setting up a new coffee shop, is the availablility of branded materials to help promote the coffee and lead to higher coffee sales.  CAPRICCIO COFFEE offers a growing range of marketing materials, from branded china cups and saucers, branded takeaway cups (dimple cups), window stickers and wall signs, to branded aprons and much more.
Give CAPRICCIO COFFEE a try for the perfect espresso - it's a small price to pay...
We Specialize In:
coffee bean,wholesale,green beans,coffee and espresso,gourmet coffee,suppliers,mountain coffee,types,coffee roasters,coffee company,fresh coffee,organic coffee
We welcome your comments!